Norwegian traditional food, culture and history
Byrkjedalstunet is so much more than a hotel. The traditional food, history and the authentic, Norwegian experience defines this beautiful place in the mountains. Byrkjedalstunet also has it`s own candle factory where the kids can make their own candles, in the middle of a large interior store.
SPECTACULAR ENVIRONMENT
Weddings, anniversaries, Christmas parties or conferences?
Gloppehallen – Randalstølen – Bestaståvå – Saghuset – Jaktståvå – Ystereriet
A TOURIST TRAFFIC FOR MANY YEARS
Byrkjedalstunet was in 2013 Rogaland`s second most visited tourist attraction in 2013! Our hotel is a different, cozy and intimate hotel where history is in the city center. Nature, idyllic buildings, food, wine and comfort are linked together …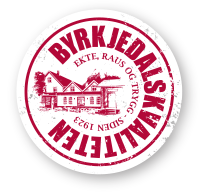 Byrkjedalstunet
Real, calm and safe.
Share your Instagram photos with us at #Byrkjedalstunet